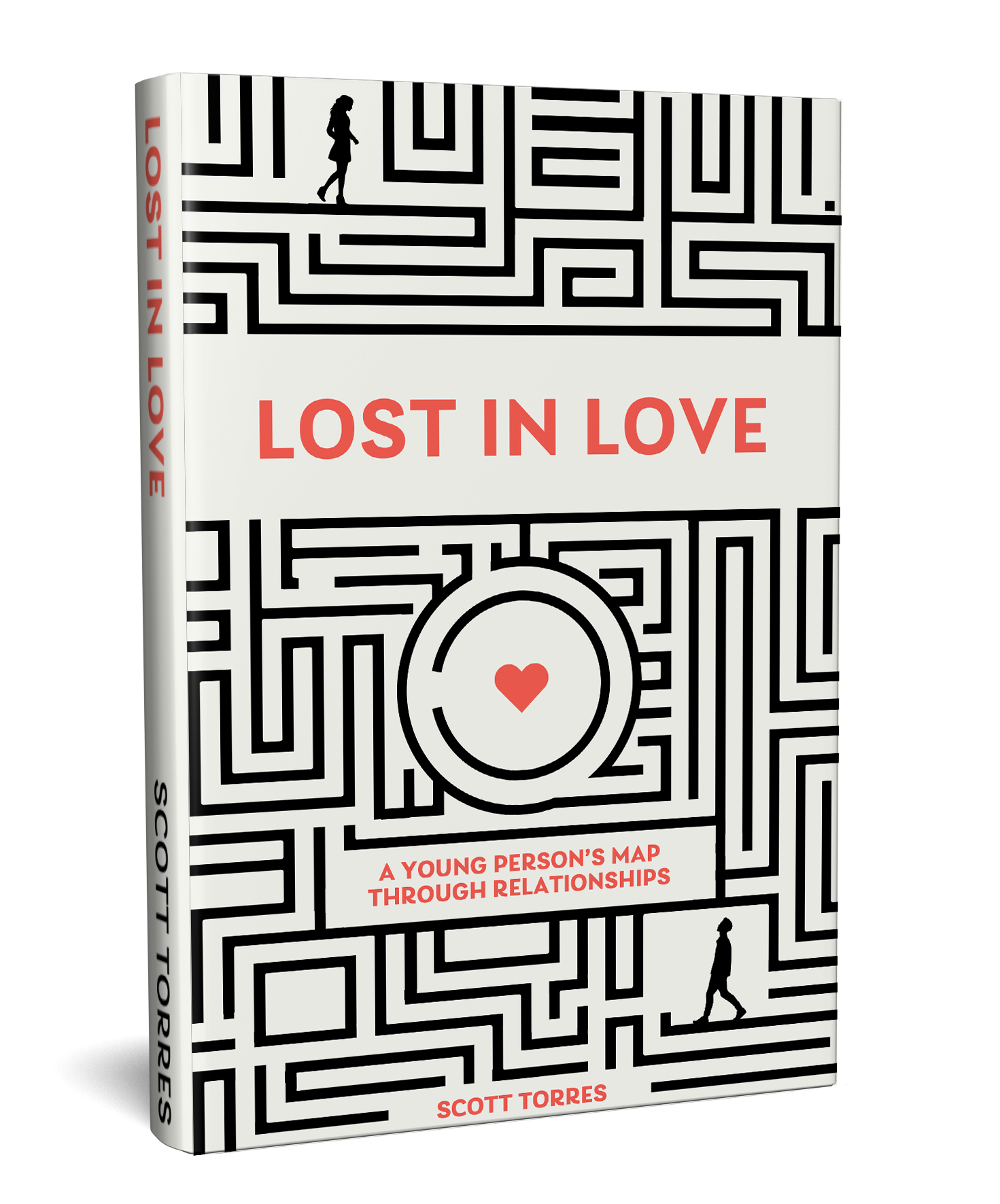 Is a relationship looming on the horizon? Or maybe you hope a relationship will happen soon? Are you currently in a relationship? If the answer to any of these questions is yes, do you know what to do and where you are going—or does it feel like a maze?
If you're unsure about relationships (or even if you think, "I've got this"), Lost in Love: A Young Person's Map Through Relationships is for you. In this book, author Scott Torres draws from his personal mistakes and years of working with students to help you navigate the complexity that relationships bring.
"Scott has written a fun, fast-paced guide to help a young person navigate through the maze of relationships. In his typical, personable style, Scott puts his arm around your shoulder, tells you about his journey, and gives you biblical advice for yours. It is a enjoyable and informative read."
"If dating, marriage, and God are a part of your thinking, you should read this book. If dating, marriage, and God are not a part of your thinking, you should read this book. Scott has written about his personal journey on these topics and shares them with us, with questions that should be considered by anyone who is looking toward the future."
"If you want to discover what God has to say about friendship, dating and engagement, this book is for you! Scott loves students and families, and his heart to help youth apply what the Bible says about relationships comes through loud and clear. The gospel of Jesus Christ also shines brightly through these pages. I highly recommend this helpful resource, Lost in Love."
"From Genesis to Revelation, God's Word has much to say concerning relationships and marriage. As we search the Scriptures, we will discover by God's grace that our sin has corrupted our thoughts, words, and deeds in relation to both of these kinships. Torres has provided a great resource to help individuals rightly think about these two areas. He unmistakably points out: we must first be reconciled to God through Jesus Christ that we may honor one another within the confines of relationships and marriage as we have been commanded. I recommend reading this book!"
"Scott's passion for youth is evident throughout Lost in Love: A Young Person's Map through Relationships. His sincere desire for others to follow Christ and honor Him through their relationships screams from every page. Scott presents us with a sound, biblical pattern for managing relationships in a godly manner. Scott authentically shares his own experiences dealing with relationships and preparing for marriage. This book is grounded in sound theology; it presents a very pragmatic approach to the fundamentals of relating to God and how that works out in everyday life."
"Lost in Love: A Young Person's Map through Relationships is not solely for young people. What a resource this would have been during my 35 years of ministry among college students. Real-life experiences elucidated with Scripture references makes this book a must-read for anyone serious about finding, establishing, and maintaining a God-honoring, long-term relationship. This book belongs in the toolbox of every pastor, parent, youth minister, or counselor."
"Young person, you have so many confusing messages and pressures about dating, friends, and relationships. But there is help! This book is a must-read and must-do for every student! Finding God's purposes and goals for all our relationships, especially our dating relationships, is so important in helping us avoid empty and harmful relationship roads! But how can you do this? Thankfully this book provides a map and guide to navigating dating, friendships, and most importantly, your relationship with God! It is so rare to receive such straightforward, helpful, and godly wisdom specifically geared to help you find and experience God's ultimate purposes for you and your relationships. You must sit down and discover the map God gives us for our relationships. You have to read this! Your future self will thank you!"
Scott Torres is a pastor, author, and speaker. His passion is to see people come to know and follow Jesus.
He currently serves as a pastor with Convergence Church in Charlotte, N.C. Scott has served in local and para church settings since 2000.
Scott attended Valdosta State University and majored in Communications. He went on to receive his M.Div from Liberty University.
He and his wife Andrea have four children, known as the Killer Bs (Boston, Bryce, Bailey, and Brooks).